Ensuring the success of your e-commerce marketing company requires a consistent effort. It includes the effective maintenance inventory, marketing of products, website traffic, among others. One such critical factor is online cart abandonment and the revenue it can generate when effectively recovered can make a real difference. Let's explore what Abandoned cart email is and discover some powerful ways to increase conversions using it.
What Is An Abandoned Cart Email?
Abandoned cart emails are follow-up messages sent to consumers who left without purchasing the items in their shopping cart. It allows you to remind your customers of their pending purchase. When done effectively, these emails can entice the consumers to purchase the products they were so close to buying. It helps recover your previously lost revenues and generate ROI by converting visitors who showed interest in your products.
Why Do You Need An Abandoned Cart Email Strategy?
Online shopping cart abandonment is an inevitable part of any e-commerce business. Over 77% of people abandon their online shopping carts.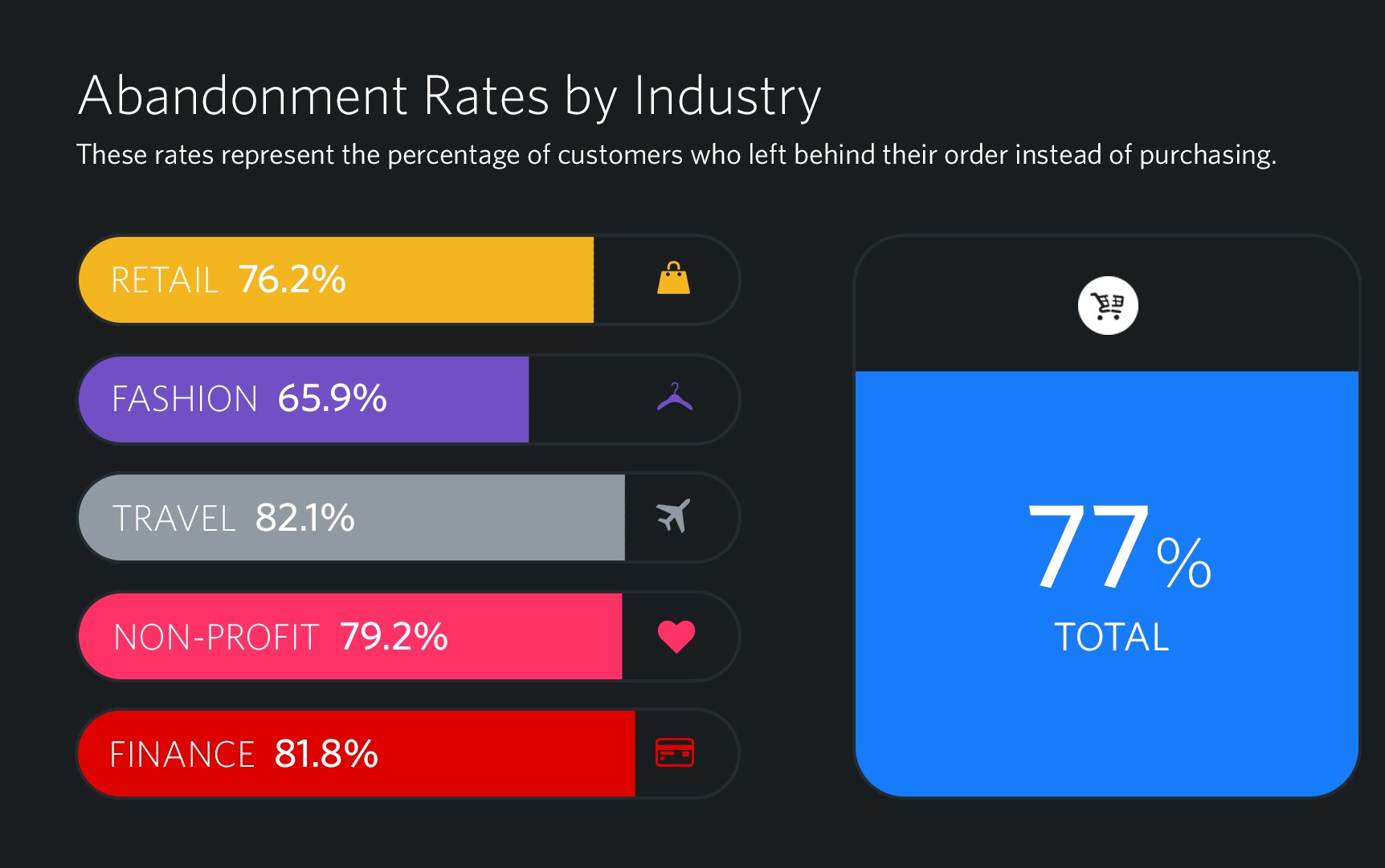 (Source: SaleCycle)
However, online marketing agencies can help formulate a powerful abandoned cart email strategy. With its help, you can encourage customers to revisit your website and make the purchase.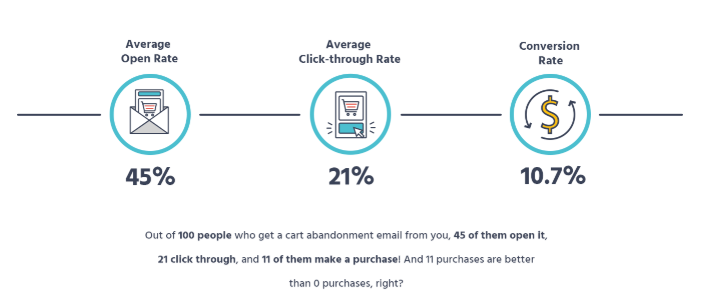 (Source: Moosend)
As we can see, 45% of people open abandoned cart email, 21% clicked through and 50% of those who clicked, converted. The numbers show how abandoned cart emails can generate some of the highest ROI. With an effective recovery email strategy, e-commerce businesses can improve their conversion rate to a great extent. Let's explore some of these effective abandoned cart email strategies.
To learn about some of the reasons for cart abandonment and how to fix them, read this blog.
Effective Abandoned Cart Email Strategies To Increase Conversions
Craft A Powerful Subject Line
As we know, 64% of people decide if they will open an email based on the subject line. Therefore, even if your email provides value to the consumers they might not open it if the subject line is not convincing. So to grab consumers' attention you need to make the subject line clear and more personalized to attract your users. Consider the following while formulating your subject line:
Add your brand's name
Include customer's name and make it personalized
Use a friendly tone
Add the product details to remind them what they left in the cart
Give an urgent tone, let them know if they would lose their items
Don't make any demands, just a simple reminder
Give A Clear Call-to-Action
Provide a call-to-action link or button in your email to prompt a response from your consumers. However, be sure not to make any demands. Avoid using CTAs like "buy now", "pay", and so on. Your users might not be ready to do so and hence ignore your email straight away. Instead, use a CTA like "return to your cart" or "view your cart". It only asks users to visit their cart again and so the users might not hesitate. As they showed interest in these products in the past, they might be naturally tempted to complete their purchase.
Show The Abandoned Product
People might not clearly remember what they have left in their carts. So, when you casually ask them to visit their cart, they might ignore it. Showcase the product that they have left in their cart. It will remind them of the product they were interested in. In certain cases, suppose a consumer adds 10 similar products to the cart for future consideration. Now, surely the buyer doesn't have equal purchase intent for all these items. Thus, in such cases, focus on selling only one product. Once you have the focus on a single product, highlight its primary benefits and unique selling propositions (USPs). You can also state some reasons why the consumer should complete the purchase. Subsequently, you can showcase similar products to provide alternatives to your users.
Include Social Proof
Provide value in your recovery email to gain the consumers' trust in your product. Online reviews and ratings can be highly influential. Therefore, include them in your email to drive in revisits to the abandoned carts. When you provide social proof, it elevates your consumers' trust in your brand. They get reassured that the product is verified and trusted by other users.
Offer Coupons And Lucrative Discounts
Sometimes the users are interested in certain products but leave them in the cart because of the price. When you offer coupons and discounts, they naturally get tempted to complete the purchase. However, almost every e-commerce businesses provide discounts on abandoned items. Therefore, you must provide a discount benefit that stands out without compromising your profitability. Another effective measure is offering free shipment.
Final Words
Cart abandonment is an inevitable part of every business. Nevertheless, following up on these abandoned sales is a crucial step towards a brand's success. With the help of a proficient ecommerce service provider, you can create a powerful cart recovery email strategy for better user engagement. Remember, most consumers usually plan on coming back to their abandoned cart. They just tend to forget it with time. If you don't want to be forgotten, strengthen your cart recovery email strategy if you haven't already. For further guidance, talk to our experts