September 21, 2020. The demand for ad blockers has been growing for a year now. A new study by NordVPN has revealed that Americans are the most concerned about online ads, as 29% of the global search traffic related to the keyphrase "ad blocker" comes from the US.
Other countries in the Top 10 list account for only 40% of all "ad blocker" search terms combined. That includes the UK (6%), India (6%), Turkey (6%), the United Arab Emirates (5%), France (4%), Canada (4%), Brazil (4%), Australia (3%), and Germany (3%).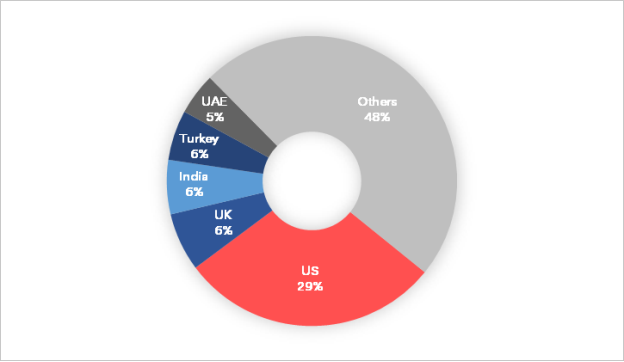 Google search volumes of "ad blocker"-related keyphrases. Time frame: August 11-September 11, 2020.
These findings come as no surprise, as spending on online advertising per capita is 4 times higher in the US than in Europe. If in 2019 the average investment into online advertising was $104 per European, in the US it reached $443. Digital marketing experts estimate that most Americans are exposed to around 4,000 to 10,000 ads each day.
Money to burn on Android
According to Statista, roughly 25.8% of internet users were blocking advertising on their connected devices in 2019. This means that a quarter of all spending on marketing doesn't reach viewers.
NordVPN looked into the specifics of "ad blocker" searches and found that 99.28% of those searching for a platform-specific ad blocker were looking for one designed for Android. The data does not vary from country to country: 98.8% of Americans and 99.45% of Brits were looking for an Android ad-blocking tool, while iOS gained almost no traction (1%). This is the first indication of Apple's efforts to move forward with their privacy-as-a-service concept.
Methodology: NordVPN researchers used Google's search term analysis tools to search for terms that include the keyphrase "ad blocker". Apart from global trends, search volumes were also checked by country. The analysis was based on search volumes in 30 days.
Time frame: August 11-September 11, 2020
ABOUT NORDVPN

NordVPN is the world's most advanced VPN service provider, used by over 14 million internet users worldwide. NordVPN provides double VPN encryption, malware blocking, and Onion Over VPN. The product is very user-friendly, offers one of the best prices on the market, has over 5,000 servers in 60 countries worldwide, and is P2P-friendly. One of the key features of NordVPN is zero-log policy. For more information: nordvpn.com.